Eating Out in Hout Bay

Halfway Bar

Cafés & Eateries Nightlife & Theatre Atlantic Seaboard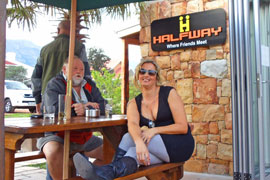 We no longer recommend this establishment.
Stunning mountain views make an ideal backdrop for an alfresco glass of wine or icy beer at Halfway Bar in Hout Bay! The bar provides an open and welcoming atmosphere, flowing naturally out onto the paved courtyard. The soothing splash of the koi and fountain make this the perfect spot to unwind after a long day or to kick off your evening out.
Alternatively, spend the evening with us and enjoy excellent prices for you drinks in a convivial atmosphere. Our friendly staff and customers are always ready to chat and discuss the latest sports and news of the day. Halfway Bar regularly stages Theme Evenings that get locals and guests alike, partying and enjoying the great music and vibe that Halfway Bar is rightly famous for.