Things To Do in Tokai

The Forest Riding Club

Family Entertainment Horse Riding Constantia Valley Southern Suburbs

Where? 11 Tokai Road, Tokai, Constantia Valley, Cape Town

When? By arrangement. Please phone.

How? Call +27 (0)71 012-9576 or +27 (0)82 478-6503

How much? Price on request

Overnight? Stay at accommodation in Tokai, in Western Cape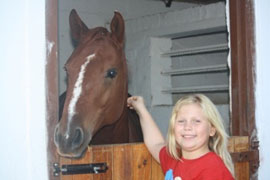 The Tokai Forest Riding Club offers a unique experience, in that it creates a holistic experience with horses; including catching horses, grooming, tacking up, riding, preparing feed and learning about horsemanship.
The club creates an environment where one can learn about horses and leave feeling so much richer for the experience, one which cannot be gained from books or from merely an hourís outride.
Riders develop an understanding of horses and acquire knowledge over 2 hours, which includes a 45 minute lesson and a meander through Tokai Forest.