Things To Do in Ashton

Farmer Redbeard's Beekeeping

Miscellaneous Breede River Valley Route 62

Where? Wilde Paarde Kloof farm, Ashton, Breede River Valley, Western Cape

When? Booking is essential.

How? Call +27 (0)23 615-1204 or +27 (0)84 205-6166

How much? Price on request

Overnight? Stay at accommodation in Ashton, in Western Cape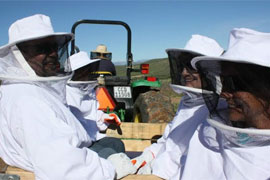 Farmer Redbeard has maintained his self-sustaining fruit, honey and wine farm for long enough to know the abundance and wonders of the Western Cape soils. Within the beautiful surrounds of the Langeberg Mountains and Langeberg Valley, this farm produces some of the most delicious produce available. And Farmer Redbeard invites visitors to enjoy a working holiday (even if only for a day) on the farm to learn more about the processes involved.
Farmer Redbeard is an accomplished beekeeper. He knows the antics of these fascinating little creatures and is happy to share his insights. He educates visitors on smoking the bees, retrieving the honey safely and then spinning it out of the honeycombs. After the day's lessons, enjoy the delicious flavours of the Western Cape honey on a piece of freshly-baked bread.