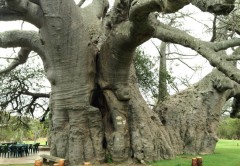 Where? Modjadjiskloof
Come and see the largest Baobab tree in the world. Standing at 22 meters tall, with a circumference of 47 meters, this magnificent tree sits on the Sunland Nurseries grounds. The nursery itself is rather ...
Where? Hoedspruit
Daktari wants to educate and inspire children to care for their environment through the medium of a wildlife orphanage. It is an organisation of people who care, not only for animals and nature, but also for ...