Eating Out in Glenwood

Yossi's Cafe

Where? 127 Helen Joseph (Davenport) Road, Glenwood, Durban

When? Tuesday to Saturday from 08h00 until late
Sunday from 10h00 until late

How? Call +27 (0)31 201-0090

Overnight? Stay at accommodation in Glenwood, in KwaZulu Natal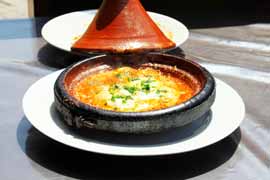 Moroccan fish cakes with couscous, aromatic chicken and lamb tagine are just some of the exuiste dishes you will find here.
With a great combination of Mediterranean, Middle Eastern and Moroccan cuisine you can expect and explosion of flavours.
The meze platters are a must try and consist of a number of delicious items that are bound to excite your palate. The restaurant is unique and cozily decorated with a wonderful atmosphere. On Wednesdays you can listen to the magical jazz band while enjoying your meal.