Things To Do in Durban North

Jump on a Jet Ski

Extreme Sports Sports & Leisure Water Sport Durban Umhlanga Coastline

Where? Liquid Jet-Ski Shop:1125 Umgeni Rd, Durban. Jet ski at Hazelmere Dam, Hazelmere Nature Reserve 30 min outside Durban.

When? Jetski at Hazelmere Dam: Weekends and holidays. Weekdays by booking. Shop open Monday to Friday from 07h30 to 17h00; Saturday from 08h30 to 13h00.

How? Call +27 (0)82 921-1391 or 0861 JETSKI

How much? Falls into price group R201 to R500 per person. Confirm with the provider.

Overnight? Stay at accommodation in Durban North, in KwaZulu Natal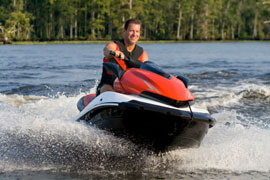 Combine the power of jets with the splendour of nature and carve your way around the Hazelmere Dam riding a jet-ski. Hands on the handlebars, antelope in the audience. Impala, Wildebeest and Zebra may look on as you traverse dam waters encompassed by the wildlife haven of the Hazelmere Nature Reserve.
Take a leisurely ski, spotting for birdlife or take a racy rev, chasing the view into the horizon. Discover secluded sanctuaries accessible by this craft and take in the scenery from a place only a jet-ski can take you. A tree-shaded picnic disbursed with adrenalin laps ensures that the mix of exercise and relaxation leave you stress free and just jet-skied. Watch the wildlife as you bring on your wild side taking a wild ride on this power toy. Still waters for novices and flat landings for tricks.
Rent all the equipment on site from Liquid Jetsports and enjoy a humid day on the dam. Hills, fields, bush and 'waterbike'. Just another jet-ski journey in Africa.
Please Note
Business details can change. All information is published in good faith as supplied by the providers. Please check with the provider that the activity/business is still offered as described above, before making any travel plans.