Eating Out in Glenwood

Best Burgers in Durban

Cafés & Eateries Wheelchair Friendly Durban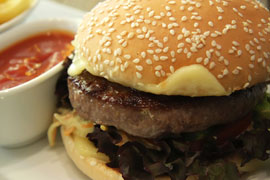 Looking for the best burgers in Durban? Try out Delux Burger Bar - Serving designer burgers, this trendy Glenwood restaurant is located in an industrial setting and is furnished with nguni skin covered ottomans and equipped with a revamped bar area.
Delux Burger Bar serves every type of burger you can think of. You can choose from interesting toppings like mango salsa or beetroot and red bean.