Things To Do in Shelly Beach

African Dive Adventures

Extreme Sports Sports & Leisure Water Sport South Coast

Where? We normally meet our divers at the Shelly Beach Ski Boat Club and Small Craft Harbour from where we launch the boats.

When? Prior booking is essential.

How? Call +27 (0)39 317-1483

How much? Price on request

Overnight? Stay at accommodation in Shelly Beach, in KwaZulu Natal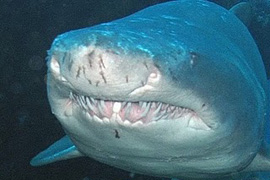 African Dive Adventures is located on the South Coast of KwaZulu Natal, 150km south of Durban, South Africa. Our diving at Protea Banks is conducted to the highest standards of safety and professionalism. Our boats carry oxygen as well has highly skilled skippers and dive leaders.
We dive completely unprotected with wild sharks in their natural environment. African Dive Adventures has been operating on Protea Banks since 1994, has never had any major diving accident nor shark attack whatsoever. We have a truly excellent overall track record. We offer packages, tailormade for every individual customer or group of divers which can include dives, accommodation, transfers and transport, food, after dive activities, visits to game parks and many more services. Barracuda Protea Banks offers the experienced diver (minimum 20 logged dives) an unforgettable experience.
A vast and growing number of divers who dived around the world have rated Protea Banks as their best dive. A list of references is available on request.
Come and live it yourself!