Things To Do in Magaliesburg

The Body Sensation

Health & Beauty Malls & Shopping Magaliesberg

Where? Shop No 7, 20 Rustenburg Road, Magaliesburg, Gauteng.

When? Open daily from 08h00 to 18h00.

How? Call +27 (0)83 738-6282

How much? Free to browse

Overnight? Stay at accommodation in Magaliesburg, in Gauteng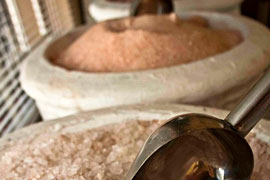 If you are interested in the peaceful mountain experiences in the Magaliesberg and you have the knowledge on how healing these mountains can be for the mind body and soul, you would be interested in this little body shop in Magaliesburg.
The Body Sensation stock stunning chrystal healing stones from all over the world including the healing quartz. You will find a selection of Himalayan bathsalts and lamps, energy and cleansing products, lovely chimes, essential oils and many more interesting things. If you are in the area and are visiting the famous home of Hekpoort Heksie next door, please take a peep into this shop for amazing gifts to take home to your loved ones.
What would a town be without interesting shops?