Where? Fourways
Fourways happens to be one of the busiest and fastest growing commercial and retail centres in Johannesburg, Gauteng. It is also the address of the Leaping Frog Shopping Centre, which boasts prime positioning ...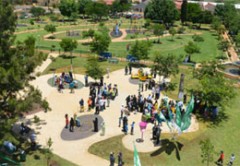 Where? Lenasia, Johannesburg
Set in the heart of Lenasia, Rose Park rests between Smarag and Argon streets. As its name suggests has an entrance lined with rose bushes that lead into the five hectare green space, past the fountain and ...