Eating Out in Cresta

Plaka in Cresta

Where? Cresta Centre near the Pick n Pay, Cresta, Randburg, Johannesburg

When? Please enquire.

How? Call +27 (0)11 478-0392

Overnight? Stay at accommodation in Cresta, in Gauteng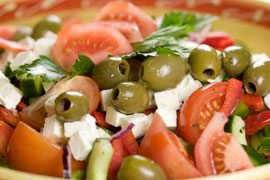 Plaka serves good old Greek food in a thoroughly modern way, without the dancing or plate throwing. They describe their menu as 'unpretentious food and meze' served in a 'contemporary setting'. The layout is all white - white tables and chairs, white menus and serviettes, waitrons all in white.
The food is excellent. Their meze platter for two came with a whole array of dips and other meze at a reasonable cost, and a couple of pitas to dip with (they didn't charge for extra pitas either). Their wine by the glass was good, and their desserts a wonderful representation of Greek-style specialties, like baklava and halva. It's real Mediterranean eating.
Additional Reading
For a review of some of the best delis and places to eat in Jozi, see our article at "When in Johannesburg: great spots at which to eat".
Please Note
Business details can change. All information is published in good faith as supplied by the providers. Please check with the provider that the activity/business is still offered as described above, before making any travel plans.