Eating Out in Pretoria

Love Bitez

Where? Shop 40 / 41 Moreletta Plaza Cnr Garsfontein & Rubenstein Drive

When? Monday to Friday from 08h00 to 18h00.
Saturday and Sunday from 08h00 to 14h00.

How? Call +27 (0)12 993-0390

Overnight? Stay at accommodation in Pretoria, in Gauteng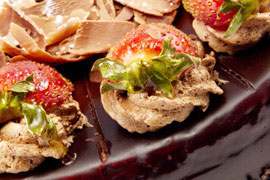 Love Bitez is a charming bakery and coffee shop that is sure to delight the senses. The vibrant décor, with its pink and white colour scheme, is modern and appealing to young and old alike. Love Bitez simply leaves one no option but to smile and succumb to its cute appeal.
Love Bitez has earned acclaim for its cakes, particularly its theme cakes. The creativity is apparently boundless. These cakes make for amazing gifts and features at parties and weddings. Other favourites include cupcakes, tarts and biscuits, all freshly baked by passionate hands. Specials are on offer (like Cupcake Day on Wednesdays).
The menu includes sweet and savoury dishes, as well as 14 different coffee varieties. Traditional breakfasts and savoury pancakes may be just the thing for those without a sweet tooth.
Please Note
Business details can change. All information is published in good faith as supplied by the providers. Please check with the provider that the activity/business is still offered as described above, before making any travel plans.