Things To Do in Montana

Kolonnade Ice Rink

Family Entertainment Sports & Leisure Pretoria

Where? Kolonnade Centre, Zambesi Drive, Montana, Pretoria, Gauteng

When? Kolonnade Ice Rink is open seven days a week for two sessions: From 10h00 to 17h00 and 19h30 to 22h30 (23h00 on Friday and Saturday nights).
Closed on Monday and Tuesday evenings.

How? Call +27 (0)12 548-2450

How much? Falls into price group R1 to R100 per person. Confirm with the provider.

Overnight? Stay at accommodation in Montana, in Gauteng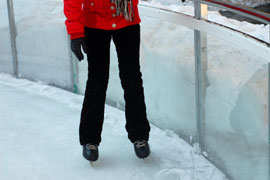 Sadly, this ice rink has closed. For an alternative Ice Skating experience see Northgate Ice Arena (in North Riding) or Festival Mall Ice Arena (in Kempton Park).
Ice skate on an Olympic sized rink - The Kolonnade ice rink is situated in the Kolonnade Centre on the outskirts of Pretoria. The only one of its kind in the city, this Olympic sized ice rink accommodates more than 300 people and is ideal for families.
Professional instructors are on hand to help those new to skating. If you get tired of the ice then the centre is also home to ten pin bowling, indoor go karting and movies, so there is enough entertainment for everyone!
You will find a kiosk on site that sells cool drinks, sweets, chocolates, chips and pies and a range of restaurants and fast-food outlets in the mall are within easy reach for hungry skaters.