Things To Do in Magaliesburg

Hot Air Ballooning at Toadbury

Scenic Flights Sight Seeing Magaliesberg

Where? Toadbury Hall, Magaliesburg, Magaliesberg, Gauteng, South Africa

When? By arrangement.

How? Call +27 (0)11 802-4318

How much? Price on request

Overnight? Stay at accommodation in Magaliesburg, in Gauteng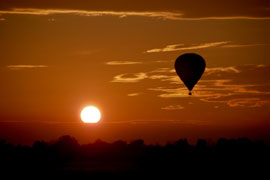 Experience the wonders of the Magaliesberg and Toadbury Hall, in the Gauteng Province, in a unique and romantic way. Soaring overhead in a hot-air balloon is the experience of a lifetime. Escape from the hectic city life and enjoy the peace of the skies as you look ahead to mile upon untouched mile of natural beauty.
Toadbury Hall is a mere 20-minute drive from Johannesburg, the commercial and financial capital of South Africa. It is nestled within the splendour of the Crocodile River Valley. The hot-air balloon begins its ascent just before sunrise, showcasing the gorgeous pinks and oranges of this time of day, as well as the landscape that changes and evolves as it is illuminated.
The flight takes about an hour. Afterwards, a glass of champagne and a hearty buffet breakfast is available within the scenic gardens of Toadbury Hall.