Things To Do in Hekpoort

Saddle Creek Ranch

Horse Riding Magaliesberg West Rand

Where? Saddle Creek Ranch, Farm HH24, Hartebeesfontein Road, Hekpoort, Gauteng

When? Daily, please phone to enquire.

How? Call + 27 (0)79 467-9906

How much? Price on request

Overnight? Stay at accommodation in Hekpoort, in Gauteng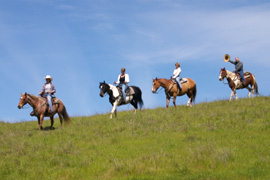 Join us on a safe and relaxing trail. Ride in the peaceful countryside with beautiful mountain scenery and lovely bush trails. Rides go out every day on calm, well trained horses that will not run away with you. Saddle Creek Ranch in the Hekpoort Valley offers horseback riding in the magnificent Magaliesberg Meander Route, only 25 minutes from Krugersdorp and 1 hour from Sandton or Pretoria.
Beginners, children, families and experienced riders all welcome. All horses are well trained, obedient and calm trail horses and there are various rides on offer through bushveld and mountain foothills. All rides are accompanied by trained staff and the emphasis is on safe, relaxed and enjoyable rides. There are more spirited horses for the advanced rider.