Things To Do in Lanseria

Horse Riding at Northern Farms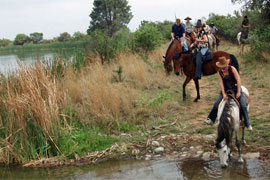 SA Horse Trails are fortunate enough to have over 1600ha of amazing outrides right on Johannesburg / Gauteng's doorstep. The Northern Farm Nature Reserve (our outride haven) is a remarkable venue that caters for all equestrian disciplines. With no set route, every horse ride is an adventure. Spectacular routes offer challenging and technical outrides ie. River crossings, inclines, bundu-bashing, canter stretches or, if that's not for you just enjoy a gentle bird watching meander.
We offer targeted learning objective courses designed to get you riding like a cowboy, teaching the western style of horse riding. From beginners to advanced - SA Trails can accommodate you. Every rider is given personal instruction thus ensuring your safety and enjoyment on the trail. Our well trained, reliable horses will ensure you enjoy the outdoors, whilst relaxing and getting back to nature.
In addition, we also offer horses to lease - so you can ride your own horse as often as you like. If you already own a horse you can keep him at our ranch and enjoy the nature reserve rides every day!