Things To Do in Auckland Park

Die Boekehuis

Malls & Shopping Miscellaneous Johannesburg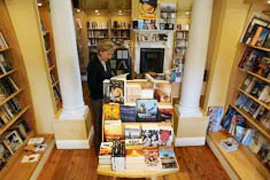 If you are a bookworm, or perhaps even if you arenít, a visit to Boekehuis in Auckland Park is a must. This independent book shop has the honour of being named, by the International Booksellers Federation in recognition of its 5oth anniversary, as one of 50 unique bookshops in the world.
Open for close on a decade, the shop is located in a century old house that once belonged to the daughter of anti-apartheid campaigner Braam Fishcher. The fireplaces, Oregon floors and pressed ceilings make the perfect decor for browsing and buying books! To lure you in even further is a coffee shop set in a garden - all you need now is that page turner!