Things To Do in Magaliesburg

Abseiling in Magaliesburg

Extreme Sports Sports & Leisure Magaliesberg

Where? Various venues in the Magaliesberg Mountains in Gauteng.

When? By arrangement. Every Day, subject to availability.

How? Call +27 (0)83 264-3778

How much? Price on request

Overnight? Stay at accommodation in Magaliesburg, in Gauteng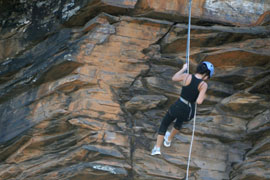 Outside Adventures specialises in safe and affordable outdoor adventure activities in the Gauteng and North West Provinces. Abseiling is the perfect way to overcome your natural fear of heights, in a very safe and supported environment. Our abseiling adventures are run by registered and experienced guides, leaving you free to concentrate on the exhilarating experience and the breathtaking scenery.
Our abseiling adventures all take place within an hourís drive from Johannesburg and Pretoria, in nature and wildlife reserves. Combine the thrill and excitement of an abseiling adventure from a natural cliff; with spectacular scenery and wildlife, for the adventure of a lifetime.
We offer abseiling in various venues and at different heights, anything from 8m to 75m in height; for ages 12 and older, and for all levels of fitness and ability. No previous experience is needed to come abseiling with us. Abseiling can also be combined with Hiking, Game Drives or River Rafting. Contact us today at Outside Adventures for an unforgettable experience of a lifetime.
Please Note:
We now also do abseiling in the Wonder Caves. Descend back in time - abseil into the spectacular Wonder Caves, followed by a guided tour to gain insight into the ancient cave formations