Eating Out in Knysna

Raasoie Ethnic Indian Cuisine

Where? 1 Memorial Square, 24 Main Street, Knysna, Garden Route

When? Monday to Saturday from 11h30 to 15h00 and 17h00 to 22h00.
Closed on Sundays

How? Call +27 (0)44 382-1444

Overnight? Stay at accommodation in Knysna, in Garden Route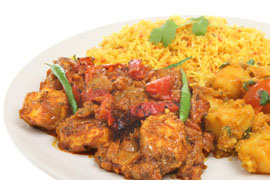 Raasoie - The Kitchen of India is an authentic Indian restaurant that found such success in Port Elizabeth that it was soon launched in Knysna. It is the brainchild of Dheeran and his wife, who came from Mumbai and had a passion for their homeland and its exquisite cuisine. They brought this passion to South Africa, introducing locals to the wonderfully fragrant aromas and flavours of their country.
The menu comprises an impressive range of curries. These include the popular korma, tikka masala, rogan josh and vindaloo. It extends far beyond this, though, and comprises fabulously 'different' dishes that reflect this eatery's commitment to real Indian food. Even the range of rices and breads to accompany the main dishes is impressive.
Everything is served in ethnic bowls and dishes, and the chefs hail from India. This is a truly Asian experience.