Things To Do in Storms River

Horse Riding in Storms River

Horse Riding Sight Seeing Tsitsikamma

Where? Mild2Wild, Main Road, Storms River, Garden Route

When? Daily from 08h00 to 17h00.

How? Call +27 (0)42 281-1842 or +27 (0)72 226-4385

How much? Price on request

Overnight? Stay at accommodation in Storms River, in Garden Route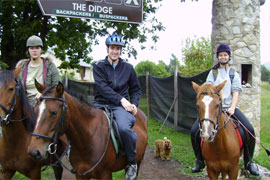 Storms River is the adventure capital of the Garden Route, and travellers will be hard pressed to visit this town and not feel inclined to become one of the adventurers. So, while a horse ride through the forest is a restful way to spend an hour or two, it is also an adventure for those that arenít accustomed to trotting around on the back of one of these powerful animals.
The tour starts at the Mild2Wild office on the main road of the village, where the horses wait patiently and nibble on snacks. There are one-hour and two-hour tours from which to choose. The basic tour comprises a short trip through the local township, down to the river, through a short portion of the forest and up to the old, original pass. Some of the local children frequently run alongside you, which gives you a glimpse into the care-free life of the rural Storms River Village.
The longer tour includes a swim in the natural pool and a longer trail through the forest, for which the entire Tsitsikamma region is so well known.
No horse riding experience is required.