Eating Out in Sedgefield

ChefAlma @ Groenvlei

Where? Lake Pleasant, Groenvlei, Sedgefield

When? Tuesday to Sunday from 08h00 to 17h00
Wednesday and Friday from 17h00 to 21h00

How? Call +27 (0)44 343-2368

Overnight? Stay at accommodation in Sedgefield, in Garden Route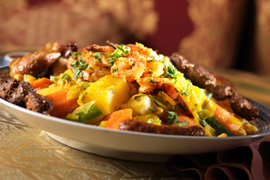 This extraordinary restaurant offers lovely South African cuisine with a few international twists here and there, making a fabulously tasty combination.
Breakfasts are a must try here as are the wraps with mouth watering fillings, pasta dishes, thai curries and the mussels.
The Mexican burger with feta, jalapenos and salsa is divine as is the monster burger, forest burger and the outeniqua burger, all topped with irresistible ingredients.
The flavours are brought together in such an incredible way, tempting you to try another dish.