Eating Out in Port Elizabeth

The Butcher's Block

Cafés & Eateries Port Elizabeth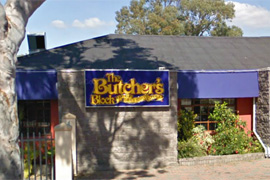 The Butcher's Block is an old Port Elizabeth favourite. This restaurant and grill-house specialises in providing superior aged meats, game and novel approaches to preparing and enjoying steak. In addition, seafood and poultry dishes are on offer for those that prefer something lighter. The Butchers Block pub is attached to the dining area and is an upmarket social spot for locals.
The atmosphere is elegant, but never overwhelming; always making diners feel at home. In addition to the restaurant, there is also a patio area and an enclosed garden, in which meals, drinks and friendship can be enjoyed. For private functions, there is a separate room in which to enjoy the great food and service.
One of the features of the Butchers Block is the glass fridge in which the meat is stored. Patrons are able to choose the exact cut that they want. They are also able to purchase meat to cook and enjoy at home. The wine list is made up of award-winning options, of which all are stored in the temperature-controlled cellar.

Please Note
Business details can change. All information is published in good faith as supplied by the providers. Please check with the provider that the activity/business is still offered as described above, before making any travel plans.