Things To Do in Tsitsikamma

Finebush Farmstall & Country Kitchen

Farm Stalls & Markets Miscellaneous Nurseries Tsitsikamma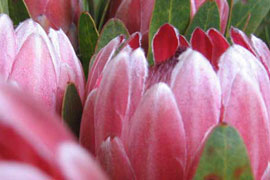 We regret Finebush Farm is no longer operating.
Finebush Farm is situated in the heart of the Tsitsikamma on marginal wetland. The farmís mission is to farm holistically with minimum disturbance to the natural environment.
Indigenous plants, proteas and fynbos are grown on the farm. The plants are used for vegetation restoration and also sold to the general public, nurseries and landscape companies.
There is a charming little farm stall that specializes in selling Garden Route cheeses and other scrumptious products of which as much as possible is source from the local area. A delightful picnic lunch is served outdoors on good weather days.
The farm animals are content, free-range animals. There are about 12 cows on the farm and the meat from the cows is healthy, free of antibiotics and steroids etc. The chickens kept are free range relaxed chickens that die of old age or get taken out by other wildlife, only the eggs are used.