Eating Out in Mill Park

Dagwoods

Cafés & Eateries Port Elizabeth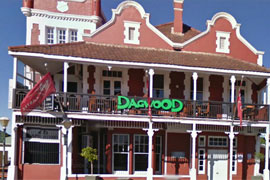 Dagwoods is situated in one of Cape Road's original old homes, which has been restored to create this popular two-storey restaurant that overlooks the never-still Cape Road. It is famous for its huge portions, tasty pub grub and friendly service.
While the style of the food is fashioned after the traditional pub fare, the approach at Dagwoods has been to create hearty meals of a fabulous quality with fresh ingredients that never skimp on quality and taste. Gourmet burgers, irresistible spare ribs and chicken schnitzels that challenge big appetites are all recommended. The bar is large and has a number of televisions on which to enjoy current sports events, which always creates a fun and vibrant atmosphere. There are also two decks (upstairs and downstairs) for those wanting fresh air and sunshine.
There is a private room for events of up to 30 guests, complete with TV screen and sports memorabilia. There are also slot machines for those wanting to try their hand at winning some money.