2 Casual Dining Restaurants in Kenton On Sea
Showing 1 to 2 of 2 results
Where? Kenton On Sea
The locals regard Bushmans Bar & Grill a home away from home - a place for friends! This family owned restaurant and pub is owned by Jacques de Coning (well-known musician & song writer) and his wife, Lynn de ...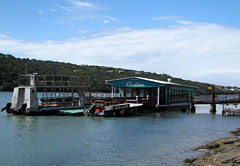 Where? Kenton On Sea
The tranquillity and beauty of the Bushman's River Mouth is unspoilt by any fast-paced city vibe. In fact, this part of the town of Kenton-on-Sea, and the Eastern Cape Province at large, is particularly ...