2 Casual Dining Restaurants in Graaff Reinet
Showing 1 to 2 of 2 results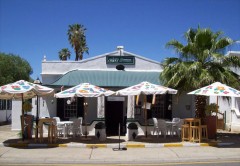 Where? Graaff Reinet
Parsonage Street is particularly noteworthy in two respects. It has more national monuments than any other street in South Africa and it is also known as South Africa's most beautiful street. One house away ...
Where? Graaff Reinet
The Eastern Cape Province of South Africa is a treasure trove of little gems. It remains one of the country's quietest provinces in terms of tourism, which actually gives it a serenity that tourists from all ...