Events in Groot Marico

Groot Marico Safari Carnival

Agricultural Shows Annual Festivals Entertainment Outdoor Events
Please Note
This event has already taken place. All details published in good faith, as supplied by the organisers. Please check our current and upcoming events list for events to attend.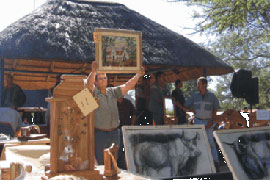 The Groot Marico Safari Carnival will again host its annual gathering in Groot Marico, North West Province and is the brainchild of the Groot Marico Reformed Church.
You can experience the warm local hospitality whilst enjoying the carnival festivities.
The various stalls sell a variety of organically grown free range products including high quality meat products such as droewors, biltong, prime cuts and poultry to kebabs and vetkoek.
Other stalls of interest contain wood and artwork, needlework and an auction. You can also participate in the many great competitions and stand a chance of winning some fabulous prizes.
At the end of the day you can sit back and enjoy a cool one in the beer garden with a bite to eat from the selection of delicious foods on offer.
Contact: Willem Sauer on +27 (0)79 6991237 for more information.