Events in Nieuwoudtville

Oorlogskloof Mountain and Gorge Run

Outdoor Events Sporting Events
Please Note
This event has already taken place. All details published in good faith, as supplied by the organisers. Please check our current and upcoming events list for events to attend.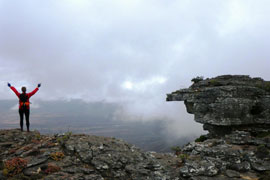 Deep gorges, cliffs, cracks under the mountain, plateaus covered in Cape Sugar bush and large Waboom trees, massive rock pillars, caverns, rock arches, ancient rock art, moon-crater like sandstone rock slabs and so much more. No words can describe this place!
Small wonder then that the trail seemingly just bumps into natural wonders and numerous, ancient rock art sites. At one point the the trail leads you underground / cliff / mountain and its wise to carry a small head torch with you for this section. Names like Draaikraal, Granaatdraai, Donkiestasie, Arrie se Punt, Pramkoppie and numerous others mark areas of significance including an ancient burial site near Suikerbosfontein.
Many decades ago, the pioneer farmers in the area used donkeys to transport Rooibos tea from the mountains to lower ground. When they left, they also left their donkeys behind. These have now become wild and runners might well spot a few in the area between Doltuin and Granaatdraai. A rare sighting is that of the Red Rock Rabbit up on the plateau. A few Cape Mountain Zebra prevail, especially in the Pramkoppie and Brakwater areas.
The run route is remote and in a wilderness area. Hence the reason that this run is entered in a 'team' setup - meaning that 2 people form a team and they run and finish together. The area is described and listed as 'pristine' and runners will - in every sense - experience a unique adventure!