Events in Polokwane

Limpopo Wine Show
Please Note
This event has already taken place. All details published in good faith, as supplied by the organisers. Please check our current and upcoming events list for events to attend.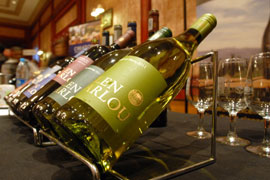 This incredibly popular Wine Show attracts wine lovers from all over to come and sample some of the top wines around.
Chat to exhibitors, learn more about the wines and taste your way through the show. Dont forget you can order your favourite wines as you go along.
Not only will there be wine, but a magnificent array of olives, wine products and a number of other interesting products are avaiable to purchase while here. This is certainly a show not to be missed.
Venue: Meropa Casino & Entertainment World, Polokwane
Time: From 17h00 to 21h00
Contact: +27 11 482-5936
Tickets can be purchased at: Money market counters in Shoprite Checkers stores, Meropa Casino & Entertainment World and at the door.