Events in Sandton

Baba Indaba Sandton
Please Note
This event has already taken place. All details published in good faith, as supplied by the organisers. Please check our current and upcoming events list for events to attend.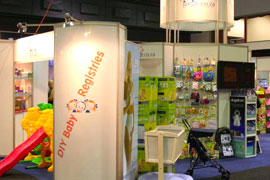 The premier baby show is the baby, toddler and parenting exhibition, held annually in the cities of Pretoria, Cape Town and Johannesburg. This truly South African baby show inspires you, the parents and moms-to-be to enjoy your baby and pregnancy and have fun while being a good parent.
Bringing the manufacturers, suppliers and retailers of baby care products together with parents and pregnant moms, this collaboration with great exhibitors creates an inspirational and stimulating expo packed with information, shopping, show specials and fun for you and your baby. The range of cute, new and innovative baby products provides plenty of interest for grandparents and even friends looking for that ideal gift for the "Baby Shower".
At Baba Indaba you will find everything from prams and baby joggers to feeding bottles and vitamin supplements and vaccinations; from car safety seats to toddler music and nursery furniture; from nutritional and medical products to pool safety and video cameras. In fact everyone with an interest in babies, children and parenting will find something new and exciting at Baba Indaba. You will view and experience everything that you could possibly want for bumps, babies and toddlers; all under one roof.
Three times daily the real Takalani Sesame characters will be on stage with their shows. Fashion shows for maternity wear and baby clothing provide further entertainment while a huge variety of baby goods, baby products, nursery furnishings, prams, nutritional and medical products satisfy the retail demand. Other favourite cartoon characters will also be around to amuse and entertain the little ones.
Venue: Sandton Convention Centre, Sandton
Times: 09h30 to 17h00 daily
Contact: +27 (0)21 689-3262 for more information