Featured Whale Watching Pages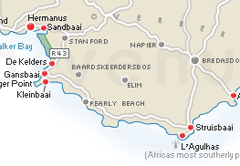 Where to see the Whales
Find out where to see the Whales in South Africa - Here you will find a detailed map showing the different regions in South Africa for the best whale watching experience. Areas include Walker Bay in the Overberg, Arniston, Struisbaai and L'Agulhas...
More info and maps: Where to see the Whales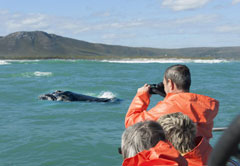 Tips for Spotting Whales
Whale watching in South Africa is so popular that whales have joined the ranks of lion, elephant, buffalo, rhino and leopard. Collectively they make up the 'big six' of African game viewing. Here are a few valuable tips to make your experience...
More info and gallery: Tips for Spotting Whales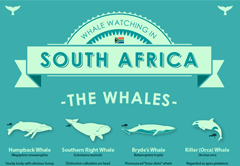 Whale Watching Infographic
For a handy reference guide about everything to do with Whale Watching in South Africa, we have prepared a handy, downloadable .pdf for you to enjoy at your leisure and help you in your pursuit of enjoying the experience of watching the...
More info and download: Download our free Whale Watching Infographic