Popular South African Marathons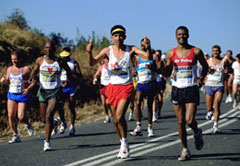 Comrades Marathon
Where? Pietermaritzburg to Durban
The world's greatest ultra-marathon, 89 kilometres long, the Comrades is a South African institution, internationally recognised for the body-sapping challenge it poses and the camaraderie it fosters among its thousands of participants. Run between the...
More info and dates: Comrades Marathon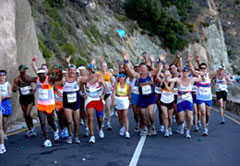 Two Oceans Marathon
Where? Cape Town
A marathon with global appeal is the Two Oceans Marathon. Hosted in the beautiful sea side city of Cape Town, the Two Oceans marathon attracts some 20 000 participants who willingly taken on 56 kilometres of open road and challenging mountain climbs...
More info and dates: Two Oceans Marathon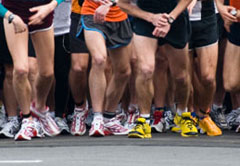 Knysna Forest Marathon
Where? Knysna
The Knysna Forest Marathon is held annually during the Knysna Oyster Festival and is always a great success. Participants can take place in either the 42.2km full marathon or the 21.1km half-marathon. This is a favourite on the running calendar...
More info and dates: Knysna Forest Marathon