Popular Clay Pigeon Shooting Destinations
Claypigeon Shooting in Hekpoort
Where? Hekpoort
Price Range? Price On Request
Shooting Fun is located in the scenic Valley of Hekpoort, part of the greater Magaliesberg region, and the venue is only an hour's drive from both Johannesburg and Pretoria. Only 25 km from Magaliesberg...
More info and contact details: Claypigeon Shooting with Shooting Fun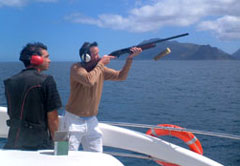 Claypigeon Shooting Cruise
Where? V&A Waterfront
Price Range? Price On Request
Depart from Hout Bay Harbour for a scenic cruise on the Tigger 2 as we make our way to the usual location at the bottom of Chapman's Peak. Once there, guests will be given the opportunity to...
More info and contact details: Claypigeon Shooting Cruise