Western Cape and Cape Town Things To Do
Wine & Biltong Tasting (Stellenbosch)
Categories: Wine Tours & Tasting
Price group: R1 to R100 per person (see other things to do in this price group)
Available in the following region(s): Cape Winelands
Stay Overnight: See Stellenbosch accommodation, in Western Cape
Address: Stellenbosch Hills Estate, Vlottenburg Rd (off R300 or R310) Vlottenburg, Stellenbosch.
Telephone: +27 (0)21 881-3828 or +27 (0)21 881-3829
Opening hours: By appointment only on Monday to Fridays from 08h00 to 17h00, Saturday from 10h00 to 15h00. Closed Easter Friday, Christmas Day and New Year's Day.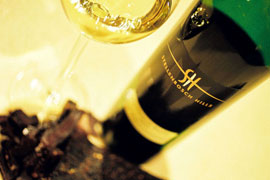 'Bil' means buttocks and 'tong' means strip in Dutch, together they term strips of lean buttocks meat which is salted, air-dried/sun-dried and enjoyed as a traditional South African cured snack, namely biltong. South African forefathers known as Voortrekkers preserved meat in this fashion during their Great Trek across South Africa.

Historically meat was tenderised under horse-back saddles and preserved with vinegar and spices abundant in the Cape Colony at the time. Quality vinegar for flavouring the biltong was produced by French Huguenots from their grapes which also yielded European style wine. Shared vineyard ingredients in a shared period in South African history make it fitting that biltong and wine pair up for a taste of South Africa. In the rolling hill setting of Stellenbosch wine country, Stellenbosch Hills Wine Estate pairs biltong and wine in a unique tasting experience.

Biltong seasoning is as subjective in taste and varied in 'recipe' as wine blending which is why a range of different biltong varieties is paired with complementary wine varietals. Intense and subtle flavours are presented in pairs of meat and grape, hand selected by the winemaker. Red and white wines are merged in taste profiles with beef and game biltong. Extra-dry springbok biltong cuts draw out the butter and citrus aroma of the chosen Chardonnay while the kudu biltong highlights the intensity of the flagship 1707 Reserve, red blend wine. Afrikaans history meets French viticulture at a table of South African tastings. slice the meat, sip the wine and slip into a well-fed relaxation.
Why Not Overnight?
Find Accommodation in Stellenbosch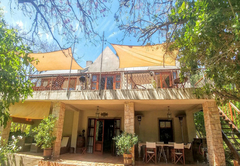 Nestled at the foothills of the Stellenbosch Mountain and offering a refuge from the hustle and bustle of everyday life, Aan de Vliet has a country atmosphere, panoramic views and lush indigenous gardens. Their luxurious, air-conditioned accommodation and personalised service makes Aan de Vliet the ...
A lovely 14 room Victorian styled Guest House (National Monument), equipped with modern facilities, where we offer our guests comfort and tranquility; whilst only a 5 minute stroll to town! Guests are offered a choice of b&b or self catering ...
Related Pages
Travelling to Stellenbosch
• Things to Do in Stellenbosch
• Stellenbosch Hotels
• Stellenbosch Accommodation
• Cape Winelands Search By Map
• Western Cape Accommodation