Western Cape and Cape Town Things To Do
Visit the Milnerton Lighthouse (Milnerton)
Categories: Lighthouses
Price group: Free (see other things to do in this price group)
Available in the following region(s): Blaauwberg
Stay Overnight: See accommodation in Milnerton, in Western Cape
Address: Woodbridge Island, Milnerton Lagoon, Blaauwberg, Cape Town
Telephone: +27 (0)21 521-1080
Opening hours: External observation any time, no tours.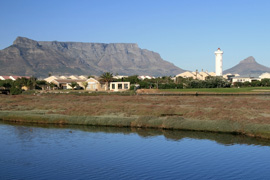 Surrounded by lagoon, palm trees, parked cars and residential homes stands Milnerton Lighthouse. This is the only nautical guard within metres of a golf course, lighting the eighteenth hole of the spectacular Milnerton Golf Course.

This 21m cylindrical tower of white concrete protects seafarers of this suburbs coastline that has caused more shipwrecks than any other section of South Africa coast. Over 150 ships have wrecked themselves on this shores shape over the last few hundred years which resulted in the installation of this lighthouse in 1960. The stranded Nieuw Haarlem is commemorated with a plaque at the lighthouse.

Urban development has reconstructed this coastline between Table Bay Harbour and Cape Colombine burying secrets of wrecked ships below a new mass of land and construction. The lighthouses revolving electric optics cast white light 25 nautical miles out across the Atlantic Ocean swells flashing 9 times in a minute with a candela power of 800 000 CD. This West Coast site of flashing light has a focal plane of 28 metres above high water and the perfect viewpoint of Table Mountain. Appreciate this beacon on the way to visiting Milnerton Beach.
Why Not Overnight?
Find Accommodation in Milnerton
The Clouds Milnerton is a holiday apartment, ten minutes from the V&A Waterfront in Cape Town. This stunning, luxury, up market secure two bedroom, ...
Modern 2 bedroom / 2 bathroom self-catering apartments sleeping 4 / 6 people. The apartments are fully furnished and equipped with secure parking, ...
Related Pages
Travelling to Milnerton
• Milnerton Attractions
• Woodbridge Island Attractions
• Woodbridge Island Accommodation