Western Cape and Cape Town Things To Do
Visit the Harold Porter Botanical Garden (Bettys Bay)
Categories: Parks & Gardens / Wheelchair Friendly
Price group: On Request (see other things to do in this price group)
Available in the following region(s): Cape Overberg / Cape Whale Coast
Stay Overnight: See Bettys Bay accommodation, in Western Cape
Address: Betty's Bay, Cape Overberg, Western Cape.
Telephone: +27 (0)28 272-9311
Opening hours: Weekdays from 08h00 to 16h30
Wweekends and public holidays from 08h00 to 17h00.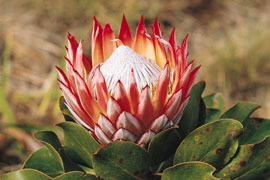 Frolic in fynbos (native 'fine leafed' bush); 190.5 ha of natural fynbos and 10 ha of cultivated fynbos flower from Cape coastline to mountain hump at the Harold Porter National Botanical Garden. Beach dunes replace shells and driftwood with salt-adapting plants. Slopes slip into green gradients gardened with waterfalls and amber pools. Indigenous plant life morphs from flatland to forest, moving marsh to mountain, grading grass to gorge, handing heathland to heavens.

Famed flora flaunts its beauty unfolding ecosystems of elements and animals. Blush like the pink Protea's petals as 88 bird species whistle you a song. Bring a picnic basket and a sketchpad and savour the bliss. Bring the dog and take to the trails. Bring the kids and roll on the lawn. Bring Granny for scones and memories at the coffee shop. Bring green fingers and purchase nursery bulbs. This Westcoast landscape showcases all Cape seasons flourishing with life from sand to soil. Enjoy the sunshine, shrubs and sometimes Summer concerts.

The peaceful garden includes sweeping mountain slopes, deep gorges, and four vegetation types that occur naturally in the Overberg - afro montane forests, wetlands, coastal dunes and fynbos. For additional info see Harold Porter National Botanical Garden - it is a magical display of proteas, ericas, leucadendrons and restios set amidst meandering nature trails.
Why Not Overnight?
Find Accommodation in Bettys Bay
Fynbos Cottage is situated in the picturesque village of Betty's Bay within 5 minutes drive to Main or Silver sands Beaches. Fynbos Cottage offers self-catering accommodation for up to 6 guests. It is located in Aster Close at the end of a cul-de-sac, offering both safety and privacy ...
Buçaco Sud is situated against the Kogelberg Mountains on the scenic whale coast route between Gordon's Bay and Hermanus, in the town of Betty's Bay, only 1 hour drive from Cape Town and the International Airport ...
Related Pages
Travelling to Bettys Bay
• Things to Do in Bettys Bay
• Bettys Bay Attractions
• Bettys Bay Accommodation
• Cape Overberg
• Western Cape Accommodation