Western Cape and Cape Town Things To Do
Drakenstein Lion Park (Paarl)
Categories: Animal Sanctuaries / Wheelchair Friendly
Price group: R1 to R100 per person (see other things to do in this price group)
Available in the following region(s): Cape Winelands
Address: Drakenstein Lion Park, Old Paarl Road (5km off the R44 on the way to Stellenbosch), Cape Winelands.
Telephone: +27 (0)21 863-3290
Opening hours: The Park is open daily from 09h30 to 17h00. We are closed on Christmas Day. Feeding Times are on a Monday, Wednesday and Friday at 16h00.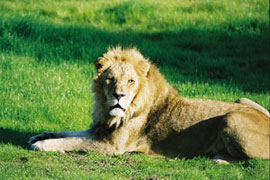 The Drakenstein Lion Park is a Sanctuary for captive born predators. Drakenstein Lion Park was established in 1998 to provide lions in distress with sanctuary, where they could live in safety, free from abuse and persecution, and be treated with the compassion and respect they deserved. The Drakenstein Lion Park is situated in the scenic Cape Winelands and comprises of 50 acres of sprawling lion habitat.

The Park is actively involved in improving the quality of life of lions in captivity, locally as well as internationally, either by offering these animals a lifetime home or working in conjunction with other animal welfare organizations to secure a safe future for individual animals in dire need.

The Park is not involved in commercial breeding or trade and offers lifetime care to all of it's animals. All the animals brought to the Park are captive bred / hand reared and cannot be rehabilitated to the wild. The animals at the Park are assured a chance of living out their natural lives in an enriched and safe environment.
Why Not Overnight?
Find Accommodation in Paarl
Incredible views over the winelands, a relaxed atmosphere and a tranquil riverside setting are combined with luxurious self catering units which have ...
This exclusive country lodge has a history dating back to 1692, the time when the original European settlers and wine growers arrived in the Cape. ...
Related Pages
Travelling to Paarl
• Cape Winelands
• Cape Winelands Accommodation
• Western Cape Game Reserves
• Things to Do in Paarl