Western Cape and Cape Town Things To Do
Visit Boplaas Family Vineyards (Calitzdorp)
Categories: Wine Tours & Tasting
Price group: On Request (see other things to do in this price group)
Available in the following region(s): Karoo / Route 62
Address: Boplaas Family Vineyards, Calitzdorp, Route 62, Western Cape.
Telephone: +27 (0)44 213-3326
Opening hours: Monday to Friday from 08h00 to 17h00; Saturday from 09h00 to 15h00; Public Holidays from 08h00 to 17h00. Closed on Good Friday and Christmas Day.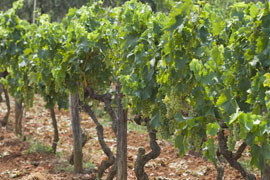 Boplaas is situated in Calitzdorp, a small picturesque village in the Southern Cape province in the majestic Little Karoo. The Nel family is part of a rich legacy that reaches back to more than 150 years. Boplaas is a family concern with Carel Nel, a Cape Wine Master, as owner and cellar master. Boplaas has long been regarded as in the forefront in premium wine production. Boplaas is known for world-class Ports and their award winning pot-stilled brandies".

In keeping with the biodiversity initiative, Boplaas devoted 2200 ha exclusively to nature conservation objectives, while a portion of income generated by wine exports is budgeted for conservation.

Boplaas is also the first winery in history to let an elephant help produce a wine through treading the grapes. A Boplaas Elephant Dry Rose 2008 wine is produced. Part of the profits will be donated to elephant conservation & research.
Why Not Overnight?
Find Accommodation in Calitzdorp
18 km north-west of Calitzdorp (Route 62) in the foothills of the majestic Swartberge, lies the evergreen Groenfontein valley. On the banks of the ...
Come and enjoy the serene and tranquil beauty of this valley, situated at the foothills of the Swartberg Mountains between Calitzdorp and Ladismith. ...
Related Pages
Travelling to Calitzdorp
• Things to Do in Calitzdorp
• Calitzdorp Attractions
• Route 62 Accommodation
• Western Cape Accommodation