Western Cape and Cape Town Things To Do
Toy and Miniature Museum (Stellenbosch)
Categories: Museums
Price group: R1 to R100 per person (see other things to do in this price group)
Available in the following region(s): Cape Winelands
Stay Overnight: See Stellenbosch accommodation, in Western Cape
Address: Behind the Visitors Bureau in Market Street, Stellenbosch
Telephone: +27 (0)21 887-2948
Opening hours: Monday to Saturday from 09h30 to 17h00
Sundays from 14h00 to 17h00
Closed on Sundays in Winter (May to August).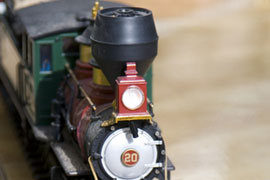 The Toy and Miniature Museum in Stellenbosch houses a collection of 1:12 scale miniatures, room boxes, miniature houses, antique dolls, cars, cuddly toys and many others. A highlight of the toy displayed is an very detailed and life-like miniature of South Africa 's famous Blue train - the only one of its kind in Africa. The train travels from a miniature version of Stellenbosch through the Cape Winelands and the mountains to the Karoo where it passes Matjiesfontein before it returns back to Stellenbosch.
Why Not Overnight?
Find Accommodation in Stellenbosch
A lovely 14 room Victorian styled Guest House (National Monument), equipped with modern facilities, where we offer our guests comfort and tranquility; whilst only a 5 minute stroll to town! Guests are offered a choice of b&b or self catering ...
L'Avenir Country Lodge nestles in the valley below the magnificent Simonsberg Mountains, offering some of the best of the Stellenbosch Winelands. Two Icon Rooms with splash pool, garden and mountain views, four Platinum Rooms with pool (garden facing) and one Family Room which is garden ...
Related Pages
Travelling to Stellenbosch
• Things to Do in Stellenbosch
• Stellenbosch Attractions
• Stellenbosch Map
• Stellenbosch Hotels
• Stellenbosch Accommodation
• Cape Winelands Search By Map