Eating Out in Newlands

The Square Restaurant

Cafés & Eateries Southern Suburbs

Where? Vineyard Hotel & Spa, Colinton Road, Newlands, 7700, Southern Suburbs, Cape Town, South Africa

When? Lunch & Dinner Reservations are essential.

How? Call +27 (0)21 657-4500

Overnight? Stay at accommodation in Newlands, in Western Cape

More? See website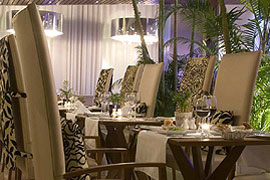 The Square Restaurant is a magnificent glass roofed restaurant with tranquil green surrounds. The indoor trees make one feel in tune with nature and creates an intimate atmosphere, which compliments the superb cuisine at this magnificent hotel in Cape Town.
This wonderful ambience is enhanced by harp or piano music blending with the tinkling sound of water tumbling down the waterfall. A well chosen wine list completes this enjoyable dining experience, with all the major estates represented as well as some "off-the-beaten-track " choices. A key addition to the eatery is our sushi bar run by skilled sushi masters offering an interesting and exciting menu. Sushi is now available on both the Lunch and Dinner menus.
The Square Restaurant received the Diners Club Diamond Award for it's wine list for the 4th YEAR running! (2009 - 2012).