Eating Out in Franschhoek

The Grill Room

Cafés & Eateries Family Entertainment Cape Winelands

Where? The Grill Room, Heritage Square, Main Road, Franschhoek, Cape Winelands

When? Monday to Sunday from 12h00 to 15h30 and 18h30 to 22h00.
Booking is essential.

How? Call +27 (0)21 876-2548

Overnight? Stay at accommodation in Franschhoek, in Western Cape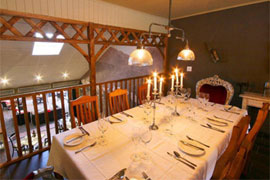 The Grillroom is ideally located on Franschhoek's Main Road. The focus is on great food and excellent presentation with succulent steaks, the freshest fish, prawns from Mozambique and many of South Africa's favourites.
There is something for everybody at The Grillroom including a covered kids area, illustrious wine list and butchery where patrons can order their perfectly matured meat.
"The food was excellent - prices not too over the top especially when taking into account the good service and the added extras like bastings and ..."
Additional Reading
For more info and a first hand review see our article at The Grill Room in Franschhoek.