Western Cape and Cape Town Things To Do
The Franschhoek Motor Museum (Franschhoek)
Categories: Museums / Wheelchair Friendly
Price group: R1 to R100 per person (see other things to do in this price group)
Available in the following region(s): Cape Winelands
Address: The Franschhoek Motor Museum, L'Ormarins, Franschhoek, Cape Winelands
Telephone: +27 (0)21 874-9000
Opening hours: Monday to Friday from 10h00 to 17h00 Last admittance 16h00.
Saturday and Sunday 10h00 to 16h00 Last admittance 15h00.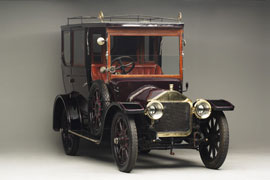 The Franschhoek Motor Museum offers visitors a special opportunity to look back at more than 100 years of motoring history with its unique and exciting collection of vehicles, motorcycles, bicycles and memorabilia in the magnificent setting of L'Ormarins.

Across the length and breadth of Southern Africa, only one place can adequately portray the evolution of the automobile, The Franschhoek Motor Museum. The museum's collection exceeds 220 vehicles - ranging from a 1898 Beeston motor tricycle to a 2003 Ferrari Enzo supercar - and more than 80 exhibits will be on view at any one time, displayed in four de-humidified halls with a total floor area of 2700 m², and presented in chronological order.

Additional Reading
For a first hand review see our article on The Franschhoek Motor Musem.

Photo Gallery

Why Not Overnight?
Find Accommodation in Franschhoek
Exceptional value combined with elegance, relaxed comfort and genuine hospitality, Gable Manor offers superb guest accommodation that perfectly ...
Newly opened Franschhoek Apartments are conveniently located on the outskirts of the village, within 10 minutes walking distance of local ...
Related Pages
Travelling to Franschhoek
• Franschhoek Attractions
• Franschhoek Hotels
• Cape Winelands Accommodation
• Western Cape Accommodation