Western Cape and Cape Town Things To Do
The Alphen Trail (Constantia)
Categories: Hiking Trails / Walks & Hiking
Price group: Free (see other things to do in this price group)
Available in the following region(s): Constantia Valley
Stay Overnight: See accommodation in Constantia, in Western Cape
Address: The walk starts on Alphen Drive, Constantia, Cape Town
Telephone: Not applicable.
Opening hours: Best during daylight hours.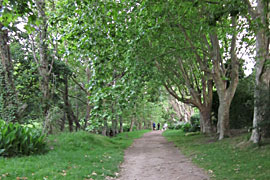 The Alphen Trail is possibly one of the most popular of the green belt walks of the Constantia Valley. The walk can start at either end, but most people park their cars on the bend of Alphen Drive that leads off Constantia Main Road to the Alphen Hotel (a national monument in its own right with beautiful gardens and tea to die for, if you're looking for somewhere to do 'high tea' before or after your walk).

The trail winds along the Diep River to the Constantiaberg Mountain and in places allows one to walk on either side of the river, with a number of bridge crossings. It's a beautiful walk filled with lush grass, trees, beautiful skies and the Le Sueur Meadow on the far end of the walk towards Hohenort. People take their dogs and families on Sunday afternoon rambles here. The walk never fails to restore the soul, demanding little from one and yet giving so much in return by way of views and fresh air.

Additional Reading:
For more hikes and walks in the area see our article: Discovering the Constantia green belt - city walks with a difference.
Why Not Overnight?
Find Accommodation in Constantia
Le Petit Poucet is a two bedroom cottage is set in a private and secure 1.5 acre garden with magnificent mountain views. The cottage has its own ...
A stylishly modern guest house offering you a home away from home in the lush surrounds of Constantia, Cape Town. Luxury en-suite rooms, a ...
Related Pages
Travelling to Constantia
• Things to Do in Constantia
• Constantia Attractions
• Constantia Map
• Constantia Hotels
• Constantia Valley Attractions
• Constantia Valley Accommodation