Western Cape and Cape Town Things To Do
Temenos Gardens (McGregor)
Categories: Miscellaneous / Parks & Gardens
Price group: Price on request (see other things to do in this price group)
Available in the following region(s): Cape Overberg
Stay Overnight: See McGregor accommodation, in Western Cape
Address: Temenos, McGregor, Western Cape
Telephone: +27 (0)23 625-1871
Opening hours: Please enquire.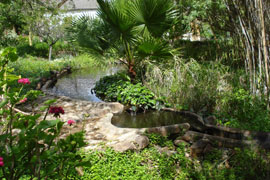 Temenos was opened in 1997 as an open space where visitors and guests would be welcomed to experience an encounter with the sacred, irrespective of whether one follows a traditional spiritual path or not. Our gentle oasis and its inclusivity is in many ways a microcosm of a more tolerant and more compassionate world where individuals and groups are invited to meet one another in The Beloved.

At Temenos we encourage our visitors to take time out to enjoy beauty, to be still and to practice awareness as a way of nurturing body and soul. One of the experiences guests enjoy most is walking in our spiral garden. A spiral is deeply symbolic and when one mindfully enters a spiral, one may experience a deepening of the awareness of one's own spiritual journey. Our spiral is also unique in that five great spiritual traditions are quietly honoured, each with its own shrine. Here the war has ended! And in the shade of the cyprus "God may come to rest".

Our Zen Garden is available for anyone who enjoys this form of meditation - either raking away pine needles or just sitting and "watching the grass grow by itself".
Why Not Overnight?
Find Accommodation in McGregor
It is hard to imagine a more splendid setting for a supremely elegant venue that takes one back to a time of extravagant luxury and exemplary refinement. With 4 star management and exquisite style you cannot help but feel like royalty during your stay at Lord's Guest Lodge. Inspired by ...
Kulamoya offers a peaceful getaway in the picturesque town of McGregor. Furnished with a Queen size, extra length bed, the cottage comfortably sleeps two people. The compact en-suite has a shower and the extras one may require on a weekend away. There is a reading area furnished with two very comfy ...
Related Pages
Travelling to McGregor
• McGregor - A Visitors Perspective
• Things to Do in McGregor
• McGregor Attractions
• McGregor Self Catering
• McGregor Accommodation
• Western Cape Accommodation