Western Cape and Cape Town Things To Do
Sulina Fairy Sanctuary (Swellendam)
Categories: Family Entertainment / Miscellaneous
Price group: Price on request (see other things to do in this price group)
Available in the following region(s): Cape Overberg
Stay Overnight: See Swellendam accommodation, in Western Cape
Address: 37 Buitenkant Street, Swellendam, Cape Overberg
Telephone: +27 (0)28 514-1786
Opening hours: Friday to Sunday from 09h00 to 16h00 and daily during school holidays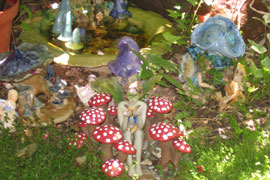 For all things mythical, magical and wonderful, come visit the Sulina Faerie Sanctuary. Tucked away on a side road in Swellendam this mystical garden is home to many enchanting faerie folk.

As you stroll though you the garden you will notice imps, elves, faeries and gnomes of all different shapes and sizes created local artists. Find them tucked away behind vines, peering out from under flowers or spying on you from a tree.

At the end of the garden path you will come to a small, quirky house that is filled with faerie paraphernalia such as figurines, accessories, lights and even faerie dust. If you are really nuts about faeries, you may want to adopt a faerie in need.
Why Not Overnight?
Find Accommodation in Swellendam
Babette Bed and Breakfast is a unique, Provencal style home offering accommodation in Swellendam in three garden cottages and one honeymoon suite. Built in French style, the house and rooms are full of lovely details; wooden beams on the ceiling and robust stone floors, all to create a homely and ...
The guesthouse is situated at the beginning of the famous Garden Route in Swellendam, South Africa, about 200km east of Cape Town. Relax while you enjoy the private atmosphere of one of the largest historic estates in Swellendam ...
Related Pages
Travelling to Swellendam
• Things to Do in Swellendam
• Swellendam Attractions
• Swellendam Self Catering
• Swellendam Bed & Breakfast
• Swellendam Accommodation
• Swellendam - A Visitors Perspective