Western Cape and Cape Town Things To Do
Skilpadvlei Wine Farm (Stellenbosch)
Categories: Wine Tours & Tasting
Price group: On Request (see other things to do in this price group)
Available in the following region(s): Cape Winelands
Stay Overnight: See Stellenbosch accommodation, in Western Cape
Address: M12, Polkadraai Road, Western Cape.
Telephone: +27 (0)21 881-3237
Opening hours: Monday to Sunday and General Public Holidays from 08h00 to 17h00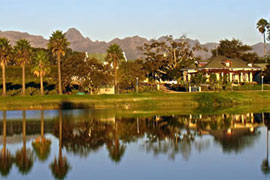 The Joubert family have owned Skilpadvlei since 1917. The farm name originates from a colony of turtles that was roamed the land. You'll find it amongst the vineyards with the Stellenbosch hills in view. To this day, Willie Joubert runs the estate and continues to make fine wines true to the Joubert name.

55 hectares are under vine along with seven hectares of tomato plantations and 3 hectares of olive groves. Cool breezes hit the vineyards in the afternoons and evenings which serves to add flavour to the grapes. If you would like some South African cuisine with your wine, visit the Skilpadvlei Restaurant. Some of their best dishes include chicken pie, tripe, bobotie, oxtail, steak and the Skilpadvlei burger. You can even build your platter and order from the choice of children's meals.

Stay indoors beside the fire or out on the veranda in summer. The Chenin Blanc has apple and honeysuckle tones with a tropical fruit nose. It is the perfect easy drinking wine and very refreshing for those hot days. Great to drink immediately or two years later.

To view more wine estates in the region see Bottelary Hills Wine Estates or see South Africa Wine Estates for a general overview and links to other wine producing regions.
Why Not Overnight?
Find Accommodation in Stellenbosch
A lovely 14 room Victorian styled Guest House (National Monument), equipped with modern facilities, where we offer our guests comfort and tranquility; whilst only a 5 minute stroll to town! Guests are offered a choice of b&b or self catering ...
At 22 Die Laan Guest House luxury meets the most modern facilities, enabling one to completely relax in this home-away-from-home. We pride ourselves on giving personal attention, yet privacy, to our guests. The guest house is small, (six bedrooms) which creates intimacy and makes it ideal for ...
Related Pages
Travelling to Stellenbosch
• Stellenbosch Accommodation
• Stellenbosch Attractions
• Things to Do in Stellenbosch
• Western Cape Hotels
• South Africa Accommodation