Things To Do in Oudtshoorn

Ride an Ostrich at Ostrich Show Farm

Where? Cango Ostrich Show Farm, 14 km from Oudtshoorn, Klein Karoo / Garden Route.

When? Daily from 09h00 to 17h00.

How? Call +27 (0)44 272-4623

How much? Price on request

Overnight? Stay at accommodation in Oudtshoorn, in Western Cape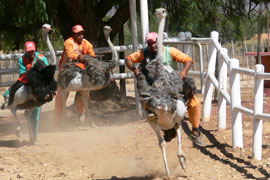 To ride an Ostrich, visit one of the Ostrich Show Farms in Oudtshoorn, South Africa. Here you can observe large flocks of Ostriches at different stages of development. There are petting areas where you can cuddle the chicks or feed an ostrich by hand, watch how feather dusters and boas are made.
Professional multilingual guides take you on a conducted tour where you will learn about the birds surrounded by thousands of ostriches. Visit the Restaurant where you can try an Ostrich Steak or the Ostrich egg (which feeds 20 people), can be tasted together with Ostrich Paté and Biltong. You can also visit the shop on site and purchase exclusive leather handbags and feather boas and a variety of decorated and plain Ostrich eggshells, Ostrich paté's and biltong (traditional dried meat) and other delicatessen are available at these shops.
And then if you feel really brave you can try to sit on an ostrich or you can actually try to ride an ostrich (at your own risk!)