Western Cape and Cape Town Things To Do
Moederkerk, Stellenbosch (Stellenbosch)
Categories: Religious / Spiritual / Sight Seeing
Price group: On Request (see other things to do in this price group)
Available in the following region(s): Cape Winelands
Stay Overnight: See Stellenbosch accommodation, in Western Cape
Address: 2 Drostdy Street, Stellenbosch, 7600, Cape Winelands
Telephone: +27 (0)21 883-3458 or +27 (0)21 887-0012
Opening hours: Monday to Thursday from 08h00 to 15h30.
Friday from 08h00 to 13h00.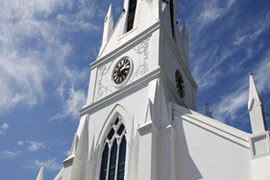 A visit to Stellenbosch would be somewhat incomplete without a trip to the Moederkerk which is in the top end of the town. Moederkerk means Mother Church in Afrikaans and this is a Dutch Reformed church. This impressive building with a Neo Gothic Tower was designed by, Carl Otto Hager, from Dresden in Germany and was completely in 1863. The present organ was placed in 1953, however, part of the mahogany cabinet as well as the front pipes of the organ are still the originals from 1863.

The church boasts beautiful gardens as well as a set of bells which resonate throughout the grounds when they chime. The walls are pristine white and even though this is a huge building it gentle holds the delicate and beautiful stained glass windows - which are made according to the French method using coloured glass and concrete.

The oldest part of the building dates back to 1735 and this is the circular walls within the church. The church and its grounds hold so much history, see if you can find the graves of four consecutive ministers of the church. Pick up an information leaflet as you enter the church which will give you more information on some of the features of the building.
Why Not Overnight?
Find Accommodation in Stellenbosch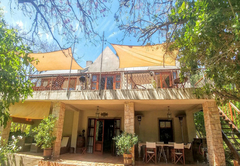 Nestled at the foothills of the Stellenbosch Mountain and offering a refuge from the hustle and bustle of everyday life, Aan de Vliet has a country atmosphere, panoramic views and lush indigenous gardens. Their luxurious, air-conditioned accommodation and personalised service makes Aan de Vliet the ...
L'Avenir Country Lodge nestles in the valley below the magnificent Simonsberg Mountains, offering some of the best of the Stellenbosch Winelands. Two Icon Rooms with splash pool, garden and mountain views, four Platinum Rooms with pool (garden facing) and one Family Room which is garden ...
Related Pages
Travelling to Stellenbosch
• Things to Do in Stellenbosch
• Stellenbosch Attractions
• Stellenbosch Bed and Breakfast
• Stellenbosch Accommodation
• Visitorial - I ♥ Stellenbosch because...