Western Cape and Cape Town Things To Do
Meander Through the Vines at Diemersdal (Durbanville)
Categories: Wine Tours & Tasting
Price group: On Request (see other things to do in this price group)
Available in the following region(s): Cape Town North
Address: Adderley Rd (M58), Durbanville, Cape Town North, Western Cape, South Africa
Telephone: +27 (0)21 976-3361
Opening hours: Monday to Friday from 09h00 to 17h00.
Saturday from 09h00 to 15h00.
General Public Holidays from 11h00 to 15h00.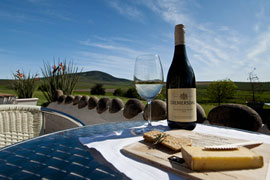 Diemersdal prides itself in the legacy of hardworking families and has a history steeped in passionate winemaking dating back to the 1800's. According to an old winemaking inventory, the estate has yielded wine for over three centuries. Situated in one of the Cape oldest wine areas, Dyemersal has seen the Louw family at the helm since 1885.

Diemersdal adhere to going green whilst making great wines and have certification that their wine has been produced in a sustainable way which is respectful of nature. This 'Sustainable Wines of South Africa' seal was launched with the vintage 2010. When it comes to winetasting, the estate shares a recipe on preparing stuffed calamari with basil and peppers to pair with a glass of Diemersdal Chardonnay Unwooded 2011. Give the new vintage of their flagship Sauvignon Blanc a try. This MM Louw Sauvignon Blanc 2011 with fynbos, asparagus and tropical fruit flavours has recently been bottled and not yet rated.

To view more wine estates in the region see Durbanville Wine Estates or see South Africa Wine Estates for a general overview and links to other wine producing regions.
Why Not Overnight?
Find Accommodation in Durbanville
Clouds Guest Accommodation is extremely well situated near the popular Tygervalley Centre. Self-catering or Bed and Breakfast accommodation in ...
Three Oaks is a very special, small Bed & Breakfast with a personal touch and a happy ambience. The rooms are tastefully furnished and spacious with ...
Related Pages
Travelling to Durbanville
• Durbanville Bed & Breakfast
• Durbanville Guest House
• Durbanville Holiday Cottages
• Durbanville Attractions
• Western Cape Hotels
• Western Cape Accommodation
• South Africa Accommodation
• Cape Town Accommodation