Western Cape and Cape Town Things To Do
Long walk on Long Beach (Noordhoek)
Categories: Beaches & Pools / Family Entertainment
Price group: Free (see other things to do in this price group)
Available in the following region(s): Atlantic Seaboard
Stay Overnight: See Noordhoek accommodation, in Western Cape
Address: Long Beach, Noordhoek, Cape Town
Telephone: +27 21 483-2949
Opening hours: Daily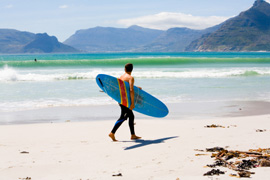 Casting your eyes from the vantage point of Chapmans Peak the immense beauty of Noordhoek beach is matched by its length. Approaching the soft white sand your desire will be to place a footprint one in front of the other all the way the distant end of the taintless 8 km beach. Chances are that your footsteps will surrender to the shores size and your feet will reach the end of their stride before the beach reaches the end of its coast.

Dunes and the Hoek are much loved surf spots with perfect peaks alternating with a series of sand banks. Watching the surfers will reveal an early 1900s ship wreck, Kakapo, to their left. This was the result of a skipper mistakenly believing that he had cleared Cape Point.

This splendid coastline is also popular with horses, walkers, joggers and dogs who all take delight ankle deep in the foam of the Atlantic Ocean. Children can do cartwheels and fight imaginary pirates loudly without disturbing tanning. Due to its magnitude, Long Beach is always peaceful but can feel isolated so enjoy it with friends and swim in their view or read a book with the feet in your sand and the coastal breeze in your hair looking up as skyline flushes with every shade of pink at sunset.
Why Not Overnight?
Find Accommodation in Noordhoek
Located between two oceans in te wind protected Sun Valley, 2 Oceans Apartments offers 2 tastefully decorated self-catering holiday apartments, just 20-30 minutes drive from Cape Town City Centre. The one room-apartments are ...
Kinghorns Garden is an exclusive villa / vacation home in a rural ambiance at the foot of Chapmans Peak. You will find tranquility and relaxation in the 170 m² of living space and the 8200 m² garden. It is almost like a botanical garden as you stroll between countless fynbos bushes and ...
Related Pages
Travelling to Noordhoek
• Noordhoek Attractions
• Noordhoek Accommodation
• Noordhoek Guest Houses
• Cape Town Beaches